PROPOSAL OF A MANIFESTO FOR A FEDERAL EUROPE: SOVEREIGN, SOCIAL AND ECOLOGICAL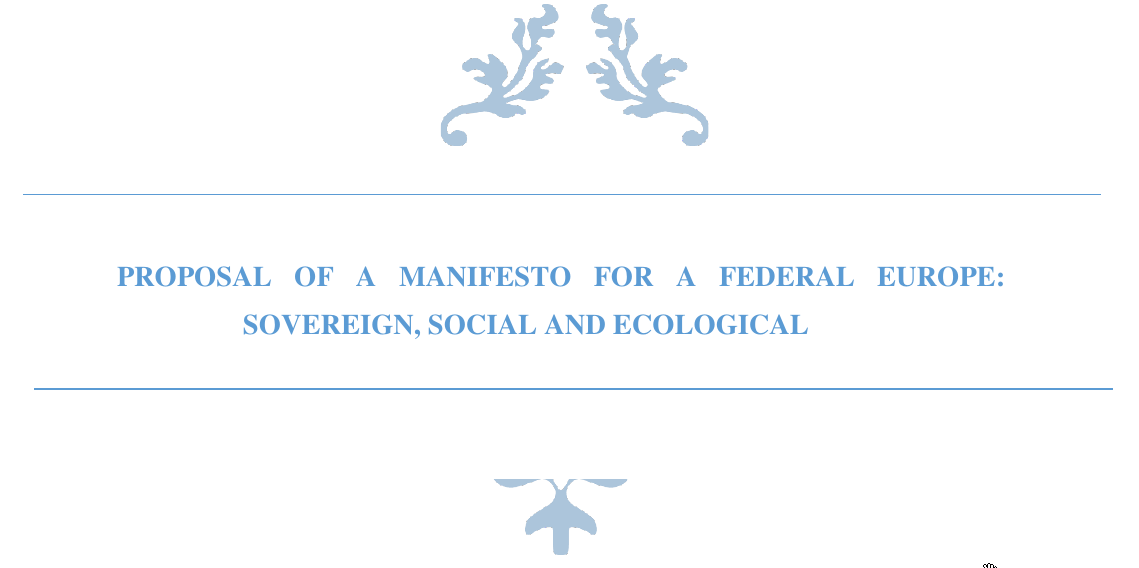 Presentation

The Proposal of a Manifesto for a Federal Europe: sovereign, social and ecological, was an idea born in 2021on the occasion of the 80th anniversary of the Ventotene Manifesto and during the development of the Conference on the Future of Europe. A total of 23 drafters (representatives of political organizations, federalist activists, academics and experts) and 60 supporters have set proposals inspired in the heritage of the Ventotene Manifesto in today´s context: the need to update the European institutional framework in a federal path and improving the global governance; the challenges resulted from the war in Ukraine; the health emergency and the climate crisis; the digital revolution; and the challenges to Human Rights as consequence of deepening inequalities. The proposal presented captures a diverse and constructive approach to culminate the necessary European federation.
After its first presentation on the 2 nd of March 2022 in Brussels, the Proposal of a Manifesto for a Federal Europe: sovereign, social and ecological was launched in the Island of Ventotene (Italy) on the 29th of August 2022, in occasion of the federalist seminar yearly organised by the Istituto Altiero Spinelli, by a delegation of the Spinelli Group Members in the European Parliament and federalist activists. Particularly:
Daniel Freund, President of the Spinelli Group (Greens, Germany), Salvatore de Meo (EPP, Italy), Domènec Ruiz Devesa (S&D,Spain), Guy Verhofstad (Renew, Belgium), Helmut Scholz (Left, Germany), Pietro Bartolo, (S&D, Italy), Fabio Massimo Castaldo (Non-Attached), Brando Benifei (S&D, Italy), Alin Mituta (Renew Europe) and Thijs Reuten (S&D, The Netherlands) – and representatives of different proeuropean organisations, such as the Italian Council of the European Movement, Group Europe, the Union of European Federalists in Spain, Belgium and France.

The Ventotene Lighthouse participated from the beginning to drafting the Manifesto and support it.
Drafters & Contributors:
Domènec Ruiz Devesa, Member of the European Parliament (S&D), Board Member of the Spinelli Group, Vicepresident of the Union of European Federalists (UEF)
Guy Verhofstadt, Member of the European Parliament (Renew Europe), Co-founder and Board Member of the Spinelli Group, Co-chair of the Executive Board of the
Conference for the Future of Europe
Daniel Freund, Member of the European Parliament (Greens/EFA), President of the Spinelli Group, Vice President of the Greens/EFA group in the European Parliament
Salvatore De Meo, Member of the European Parliament (EPP)
Pietro Bartolo, Member of the European Parliament (S&D), Member of the Spinelli Group
Alin Mituta, Member of the European Parliament (Renew Europe), Member of the Spinelli Group
Helmut Scholz, Member of the European Parliament (The Left), Board Member of the Spinelli Group
Fabio Massimo Castaldo, Member of the European Parliament (Non-Attached), Member of the Spinelli Group, Member of the Federal Committee of the Union of European Federalists (UEF)
Pier Virgilio Dastoli, President of the Italian Council of the European Movement, Former collaborator of Altiero Spinelli
Laura Maria Cinquini, Former Ambassador, citizen ́s panel of the Conference on
the Future of Europe
Paolo Acunzo, Member of the Federal Committee of the Union of European Federalists (UEF)
Nicola Vallinoto, Member of the World Federalist Movement (WFM)
Tommaso Visone, Associate Professor of History of Political Doctrines, Member of the Movimento Federalista Europeo (MFE)
Antonio Longo, Member of the Federal Committee of the Movimento Federalista Italiano (MFE), and Director the Ventotene Lighthouse
Jaap Hoeksma Philosopher of law, Director of Euroknow
Daniel Cohn-Bendit, Writer, Former Member of the European Parliament, Co-founder of the Spinelli Group
Enrique Barón Crespo, Former President of the European Parliament, Union
of Europeanists and Federalists (UEF) Spain President
Hans-Gert Pöttering, Former President of the European Parliament, President of the Board, House of European History
Luca Visentini, Secretary General, European Trade Union Confederation
Danuta Hübner, Member of the European Parliament (EPP), Board Member of the Spinelli Group
Sophie in 't Veld, Member of the European Parliament (Renew Europe), Member of the Spinelli Group
Maite Pagazaurtundúa, Member of the European Parliament (Renew Europe), Member of the Spinelli Group
Pierre Larrouturou, Member of the European Parliament (S&D), Member
of the Spinelli Group
Lucio Levi, Former President of the Movimento Federalista Europeo (MFE), Professor of Political Science
Francisco Aldecoa Luzárraga, President of the Spanish Federal Council of the
European Movement, Professor of International Relations
Paolo Ponzano, Author, University professor, and Member, Movimento Federalista Europeo (MFE)
Guido Montani, Former President of the Movimento Federalista Europeo (MFE), Professor of Political Economy
Domenico Moro, Member of the Federal Committee, Movimento Federalista Europeo (MFE)
François Leray, President of the Union of European Federalists (UEF) France
Alberto Alemanno, Professor Jean Monnet, EU law
Carlos María Bru Purón, Former Member of the European Parliament
Andreas Bummel, Author, Co-founder and director of Democracy Without Borders and the International Campaign for a United Nations Parliamentary Assembly
Fernando Iglesias, Co-President of the World Federalist Movement, Member of Parliament, Argentina
Participating colleagues of the Spinelli Group & other supporters
Brando Benifei, Member of the European Parliament (S&D), Board Member of the Spinelli Group, Vice-President of the European Movement International
Thijs Reuten, Member of the European Parliament (S&D), Member of the Spinelli Group
Jonás Fernández Álvarez, Member of the European Parliament (S&D), Member of the Spnelli Group
Dafni Gogou, Member of the Board Union of European Federalists (UEF)
François Mennerat, Member of the Board Union of European Federalists (UEF)
Giulia Iapichino, Doctorate researcher in Political Science
Francesco Sanguineti, Researcher and writer
Alejandra Oriola Almarcha, Member of the Young European Federalists of Spain
Silvana Boccanfuso, Historian, Writer
Dimitrios Papadimoulis, Vice-President of the European Parliament (The Left), Board Member of the Spinelli Group
Othmar Karas, Member of the European parliament (EPP) and Vice-President of the European Parliament, Member of the Spinelli Group
Monica Frassoni, Former Member of the European Parliament, Former General Secretary Young European Federalists (JEF)
Jo Leinen, Former Member of the European Parliament, Union of European Federalists (UEF) Honorary President, Former President of the European Movement International
Mercedes Bresso, Former member of the European Parliament Former President of the Union of European Federalists (UEF)
Andrew Duff, Former Member of the European Parliament, Former President of the
Union of European Federalists (UEF), Former President of the Spinelli Group
Gabriele Bischoff, Member of the European Parliament (S&D), Board Member of the Spinelli Group
Pierluigi Castagnetti, Former Member of the European Parliament, Former Member of the Italian Parliament
Maria João Rodrigues, Former Member of the European Parliament, Former Vice-President of the S&D Group, President of the Foundation for European Progressive Studies
Pascal Durand, Member of the European Parliament (Renew Europe), Board Member of the Spinelli Group
Damian Boeselager, Member of the European Parliament (Greens/EFA), Board Member of the Spinelli Group
Katalin Cseh, Member of the European Parliament (Renew Europe), Board Member of the Spinelli Group
Gwendoline Delbos-Cornfield, Member of the European Parliament (Greens/EFA), Board Member of the Spinelli Group
Radan Kanev, Member of the European Parliament (EPP), Member of the Spinelli Group
Javier Moreno Sánchez, Member of the European Parliament (S&D), Member of the Spinelli Group
Eugenia Rodríguez Palop, Member of the European Parliament (The Left), Member of the Spinelli Group
Bernard Guetta, Member of the European Parliament (Renew Europe), Member of the Spinelli Group
Eider Gardiazabal Rubial, Member of the European Parliament (S&D) Member of the Spinelli Group
Ernest Urtasun, Member of the European Parliament (Greens/EFA), Member of the Spinelli Group
Sylvie Guillaume, Member of the European Parliament (S&D), Member of the Spinelli Group
Hilde Vautmans, Member of the European Parliament (Renew Europe), Member of the Spinelli Group
Niklas Nienass, Member of the European Parliament (Greens/EFA), Member of the Spinelli Group
Isabel García Muñoz, Member of the European Parliament (S&D), Member of the Spinelli Group
Olivier Chastel, Member of the European Parliament (Renew Europe), Member of the Spinelli Group
Petras Auštrevičius, Member of the European Parliament (Renew Europe), Member of the Spinelli Group
Klára Dobrev, Member of the European Parliament (S&D), Member of the Spinelli Group
Nacho Sánchez Amor, Member of the European Parliament (S&D), Member of the Spinelli Group
Juan Fernando López Aguilar, Member of the European Parliament (S&D), Member of the Spinelli Group
Wlodzimierz Cimoszewicz, Member of the European Parliament (S&D), Member of the Spinelli Group
Cristina Maestre, Member of the European Parliament (S&D), Member of the Spinelli Group
Sandor Ronai, Member of the European, Parliament (S&D), Member of the Spinelli Group
Inmaculada Rodríguez Piñero, Member of the European Parliament (S&D), Member of the Spinelli Group
Delara Burkhardt, Member of the European Parliament (S&D), Member of the Spinelli Group
Estrella Durá, Member of the European Parliament (S&D), Member of the Spinelli Group
Giuliano Pisapia, Member of the European Parliament (S&D), Member of the Spinelli Group
Adriana Maldonado, Member of the European Parliament (S&D), Member of the Spinelli Group
Ibán García del Blanco, Member of the European Parliament (S&D), Member of the Spinelli Group
Rene Repasi, Member of the European Parliament (S&D)
Nicolás González Casares, Member of the European Parliament (S&D), Member of the Spinelli Group
Lina Gálvez Muñoz, Member of the European Parliament (S&D), Member of the Spinelli Group
Michele Ciavarini Azzi, President of the Union of European Federalists (UEF), Belgium
Alícia Homs, Member of the European Parliament (S&D), Member of the Spinelli Group
Javier López, Member of the European Parliament (S&D), Member of the Spinelli Group
Alessandra Moretti, Member of the European Parliament (S&D), Member of the Spinelli Group
César Luena, Member of the European Parliament (S&D), Member of the Spinelli Group
Francesco Cerasani, Member of the Partito Democratico (PD) Executive Board
Carlos Carnero, Former Member of the European Parliament
Catherine Vielledent, Group Europe (UEF) Secretary General
Josep Lluís Salazar, Member of Federalistes d́Esquerres (UEF) Catalunya
Montserrat Oliván, Member of Federalistes d́Esquerres (UEF) Catalunya
Domenico Rossetti, Secretary General of the Union of European Federalists (UEF), Belgium
Pablo Faura, Former President of the Union of Europeanist and Federalists (UEF) Spain
Pilar Llorente, Former Vicepresident of the Union of Europeanists and Federalists (UEF) Spain
Piero Graglia, Historian, Professor
Collaborators
Martina Ciai, Writer, Parliamentary Assistant at the European Parliament
Eleonora Vasques, Journalist
Alejandro Peinado García, Parliamentary Assistant at the European Parliament,
Secretary General, Union of Europeanists and Federalists (UEF) Spain
Rosa Pérez Monclús, Parliamentary Assistant at the European Parliament
Iria Campo Rey, Trainee at the European Parliament
Witness
Silvia Costa, Commissario straordinario di Governo per il Progetto di recupero dell'́ex carcere borbonico di S. Stefano, Former Member of the European Parliament
Carmine Caputo, Sindaco dell'Isola di Ventotene